A Transitional Residence for Homeless Veterans
Serving Our Vulnerable Veterans with Honor as They Served Us
Serving Our Vulnerable Veterans with Honor as They Served Us
Identify and Evaluate Homeless and Vulnerable Veterans
We identify homeless veterans in the community through communication with other service providers, assessing their risk and recovery factors to determine their suitability to our program. In the event we do not have an available bed at such times, no veteran is left behind, as we work to connect them with alternate resources in collaboration with our partner agencies.
Provide the Veteran a Safe Affirming Place to Live
Veterans accepted into our program, are provided their own well-appointed room, complete with linens and personal hygiene items. They have free access to laundry and kitchen facilities, with food provided where necessary, as well as spacious common areas featuring books, television and available Wi-Fi. These comforts have been thoughtfully prepared to provide a stable platform for success in recovery.
Co-Build a Success Plan with the Veteran Resident
Each veteran resident is fully assessed to identify the specific risk factor they have struggled with in homelessness and targeted case management counseling is provided to address each of those individually, rather than a 'one size fits all' approach. Having a voice in their own recovery and a plan with clear, achievable goals, encourages successful outcomes.
Partner with Veteran-centric and Community Service Providers
We partner with other community service providers to provide professional input and application beyond the scope of our function, to ensure each resident's every issue can be addressed in a practical and successful way.
Transition the Veteran back into the Community No longer at risk
As our veteran residents approach the full achievement of their program goals, we begin to search the community for housing locations and availability, which further lends toward continued success for them beyond our program. We also transition them with the confidence of an ongoing relationship with Warriors Once Again and its case management service, should they experience difficulty.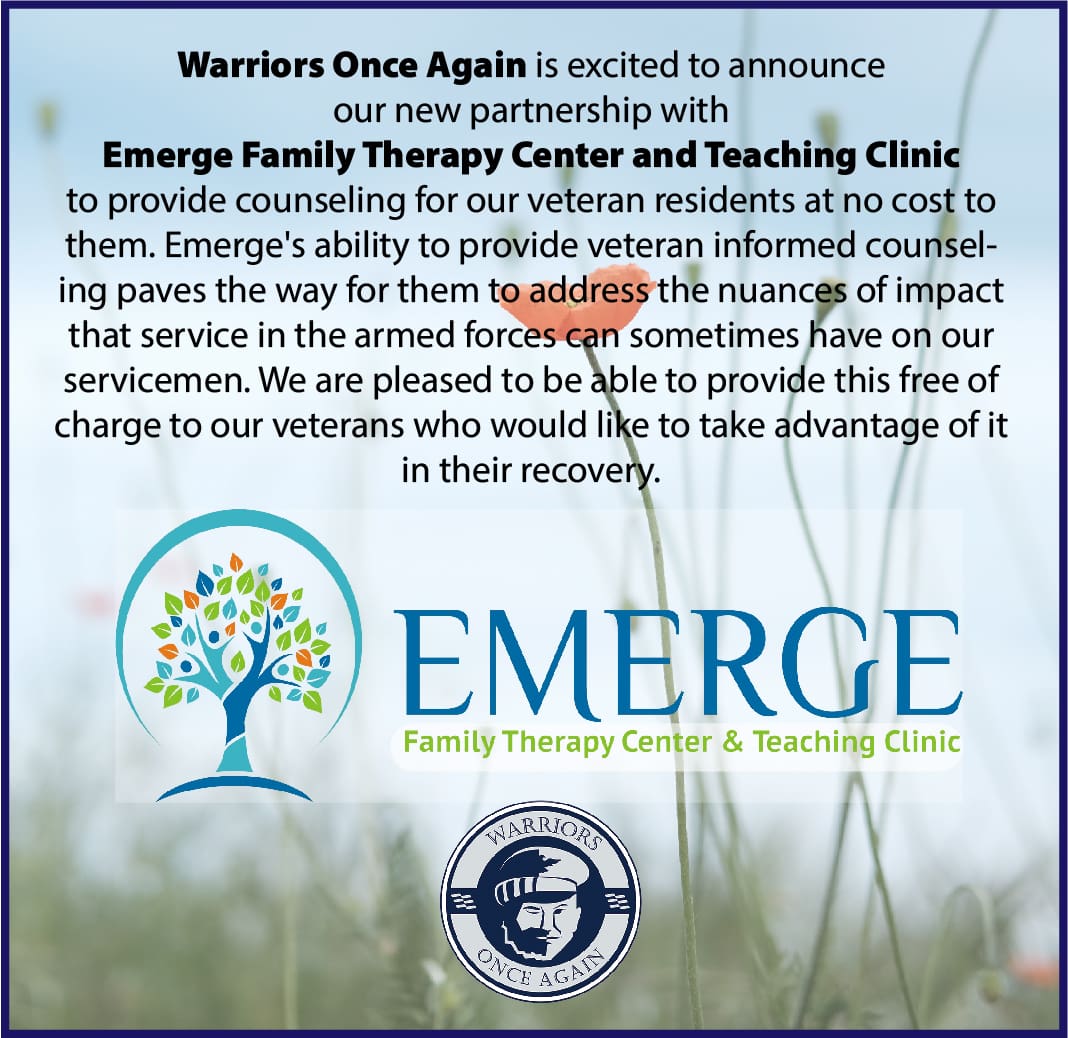 Non-profit works to help transition veterans out of homelessness
The Reality
THESE TOTALS ARE BASED ON 2022 HUD POINT IN TIME COUNT STATISTICS
U.S. HOMELESS PERSONS
582,462
U.S. HOMELESS VETERANS
33,129
WARRIORS ONCE AGAIN
Response to this crisis, since opening in 2021
Homeless Veterans Served
20
Successfully Transitioned
11